AvenueWest Global Franchise Among Top 500 Honorees Named to Inc. 5000 List of America's Fastest-Growing Private Companies
For the 4th Time, AvenueWest Appears on the Inc. 5000, Ranking No. 435 With Three-Year Revenue Growth of 1,127 Percent
DENVER –– AvenueWest Global Franchise, a partner for property investors and the corporate housing community, has been named one of the fastest-growing companies by Inc. magazine for the fourth time. AvenueWest ranked no. 435 on the annual Inc. 5000 list, the most prestigious ranking of the nation's fastest-growing private companies.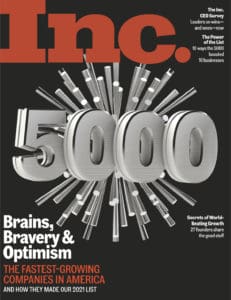 "We are excited to be recognized by Inc. as one of the fastest-growing companies in the US and be part of the top 500 companies," said Angela Healy, AvenueWest CEO. "This recognition reflects our emergence as a top industry leader in corporate housing nationwide, meeting the needs of companies, families and individuals. As millions relocate to tier two and tier three cities across America, we will continue to deliver on their housing needs through our global network of local property management experts on the ground."
Since Healy became CEO in 2017, AvenueWest has grown to manage $150 million in residential assets which supports $10 million annually in residential leasing.
Following a tumultuous 2020, AvenueWest maintained 100% of franchises despite a significant early decline in corporate housing demand, and now continues to recognize significant growth as property investment owners capitalize on pent up demand for temporary housing. From families seeking to relocate to less densely populated communities to the return of business travel and relocations, temporary housing through AvenueWest provides individuals and families a place to settle for anywhere from a few months to years. The demand for fully-furnished and turnkey housing does not anticipate to soften in the near future as national housing inventory remains at all-time record lows. 
"We are incredibly grateful to the companies and families that put their trust in us and to our team's dedication to our vision to be the premier partner for corporate housing," continued Healy. "Congratulations to all of our employees and franchise owners for making this accomplishment possible!"
Since the list started in 1982, Inc has recognized the most successful privately held companies in the U.S. with incredible stories of growth. Collectively, the 2021 Inc. 5000 awardees achieved an incredible three-year average growth of 543 percent with median revenue reaching $11.1 million, adding over 610,000 jobs over the past three years.  
"The 2021 Inc. 5000 list feels like one of the most important rosters of companies ever compiled," says Scott Omelianuk, editor-in-chief of Inc. "Building one of the fastest-growing companies in America in any year is a remarkable achievement. Building one in the crisis we've lived through is just plain amazing. This kind of accomplishment comes with hard work, smart pivots, great leadership, and the help of a whole lot of people."
To qualify, companies are required to be U.S.-based, privately held, for profit, and independent — not subsidiaries or divisions of other companies. Revenue used for qualification purposes was for the years 2017 through 2020.  Complete results of the Inc. 5000, including company profiles and an interactive database that can be sorted by industry, region, and other criteria, can be found at www.inc.com/inc5000. The top 500 companies, including AvenueWest, are featured in the September issue of Inc., which will be available on newsstands on August 20.
For more information about AvenueWest franchises and the next steps to owning your future, please visit www.franchising.avenuewest.com 
About
AvenueWest Managed Corporate Housing is an award-winning, woman-owned business that delivers real estate investors a turnkey solution for property management, benefitted by our global network of local experts that manage furnished, corporate rentals with five-star customer service.  Built on over two-decades of success, AvenueWest Global Franchise enables entrepreneurs to launch property-based businesses in their local communities and equip them with the network, the hands-on-training and the infrastructure for success. Whether you are a corporate customer in need of top-tier housing, a property owner seeking managed rental services, or a broker looking to propel your real estate business forward, AvenueWest will deliver for you. Visit www.avenuewest.com for more information.